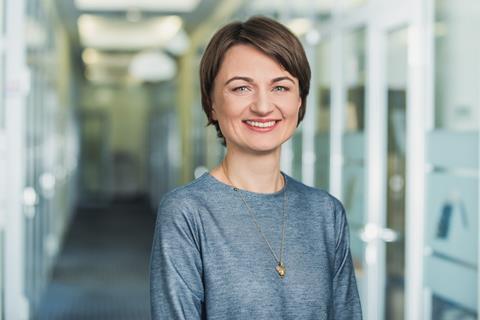 In 2019, implementing requirements of the European Union's Fourth Railway Package, Lithuania's railway market was liberalized. In the process, the biggest railway group in the Baltic region, Lietuvos Geležinkeliai, reorganized its activities, and Lithuania's second-largest rail freight company, shunting operator Gargždų Geležinkelis (GGRail), then in its 20th year of operations, got an opportunity to go beyond just shunting. As soon as the changes began, GGRail started seeking ways to turn them into a chance to digitize processes, stay profitable in a deeply altered competitive environment, and prepare itself for a business leap.
The answer to many challenges proved to be technologies and a fundamental digitization of processes. With the help of the next-generation railway system CargoRail, GGRail managed in under a year to become the first shunting service provider in Lithuania to fully digitize its operating processes and a pioneer in the field helping other railway transport players transform Lithuania into a progressive regional leader and a bridge between Western and Eastern Europe.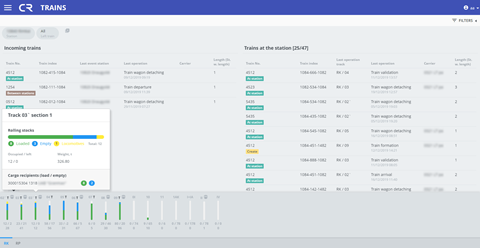 Started collecting key data from scratch
GGRail operates at several important cargo hubs: at the Draugystė railway station, the biggest in Lithuania, through which 15 million tonnes of freight is carried each year; at the Rimkai railway station, where it serves more than 10 different types of freight clients; and at the Mockava railway station on the Lithuanian-Polish border.
At the start of 2020, GGRail did not have a system of its own for gathering all the information it needs for its activities. But after structural changes to obtain competitive advantage, having a powerful and autonomous system like that become essential.
"We needed a system where we could not just process data on operations but also perform accounting for services, verify data received from the infrastructure manager, issue invoices to clients and handle other important administrative tasks. We wanted the new tool to also help us optimize our activities but without requiring big investments in IT or staff. Finally, under our long-term development strategy, we plan to take advantage of the opportunity created by the European Union requirements to also start operating also on main lines. In short, we were looking for a powerful system that could meet all these needs," says Gintautas Lukauskas, the Commerce Director at GGRail.
Use of smart devices essentially altered some operating processes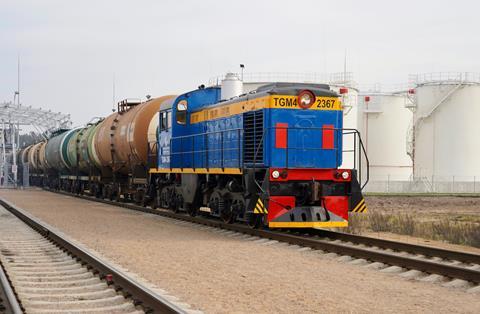 The head of commerce notes that in starting to search the market for a system to meet those needs, several specific requirements were formulated. First, the system's developer should already have experience working with the railway industry. Second, the developer should not be far away and should be able to provide advice and technical support in the Lithuanian language. And third, the new system should help perform shunting tasks on both broad- and narrow-gauge track
The best fit for all those requirements was the CargoRail next-generation system for railway transport developed by a team of Lithuanians. This system adapts at every station to the process in effect at that station, enabling real-time completion of documents on smart devices, centralized accounting for services and automatic preparation of key documents. In addition, it is the first system that supports operations on both narrow- and broad-gauge track, and has not just the mandatory integrations with the carrier and the infrastructure manager, but also with customs, the seaport, etc.
In starting to use the system from the beginning of 2020, Mr Lukauskas recalls, entire Shunting services division and accounting department of 67 employees felt the change, so acquisition of the system can boldly be called the start of full-scale digitization. Where previously one person worked with data processing and documents, on starting to use CargoRail the whole team got involved in that process. First of all, drivers and conductors. They were given smart devices – phones and tablets – for entering operations in the system in real time while, for example, inspecting railcars, attaching or detaching cars, and so on, letting them perform service accounting with the click of a button and just as easily issue an invoice.
"I'd say it was precisely the ability to perform so many actions in real time that was the key change. The team needed a bit of time to acquire the new habit and not fear assuming responsibility. By the way, that process was facilitated by the fact that on the new system it's easy to trace data and quickly fix any mistakes. So we were not surprised that soon the whole team valued how convenient the new system was," GGRail's commerce director says.
Much smoother data collection was also made possible by the ability perform much more accurate accounting for services provided by third parties, starting with the infrastructure manager. "Summing up the digitization of processes with this system, we can say that it has helped us, as a state-owned company, achieve greater efficiency and transparency. Accounting with precise data makes it possible to avoid human errors, charge for additional services, and have full data traceability and accountability. We have grounds to expect that already in the near future the data that is being collected will help us even further optimize our operations, save, and improve the quality of services," the manager explains.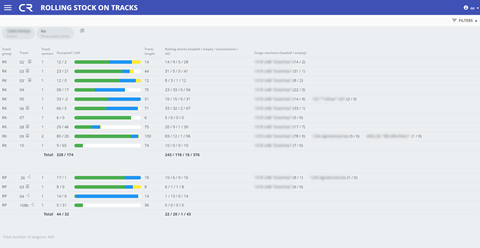 A tool helps plan an ambitious business future
CargoRail and the digitization process enabled by the system have also emboldened GGRail to plan for a future as an international carrier, Mr Lukauskas acknowledges.
"We now have and are learning to use a powerful digital tool. Its functions will be necessary for us when we enter the carrier market too and we see good chances to compete successfully in the new market. Our belief in the future and the growing role of technologies in the railway business is also inspired by the fact that we've managed not just to adapt to changes but also to maintain our clients' trust," the company's head of commerce says.
GGRail's success story and business transformation have not gone unnoticed in Lithuania's overall railway market. "We say jokingly that we're the first shunter whose drivers and conductors use smart devices at work. But we feel that our example is encouraging other market players to also start working on digitization," Mr Lukauskas says.
According to one of CargoRail's developers, Jolanta Skeivelienė, it was precisely the problems of carriers in the entire Baltic and Eastern European region that motivated the creation of the solution.
"Real operating hindrances preventing the region's carriers from doing their work faster and better dictated CargoRail's most important features. Working with GGRail, we've been able to see with our own eyes how system features and abilities that are already standard in other business sectors make the work of railway companies significantly easier and in some cases cheaper as well. We're also just as happy that we've managed to build a system that can fundamentally transform operating processes while remaining very user friendly," Ms Skeivelienė says.
She notes that the core of the CargoRail idea is the simplicity of the user interface, with many actions that can be performed at the click of a button and an ability to prepare key documents automatically. "Thanks to the universality of these features, CargoRail can give railway companies of any type greater flexibility without increase the number of staff, making it possible to serve more clients and offer them individualized pricing, and reducing the chance of human errors in accounting and documentation," Ms Skeivelienė says, adding that the future vision of CargoRail's creators is a Lithuanian railway industry united in one common electronic space, where all the parties involved in transporting freight can more easily and more quickly interact with each other and more effectively conduct their activities: not just carriers, shunters and infrastructure mangers, but also customs, veterinary and agricultural services, and the state border guard.
Find out more about CargoRail at www.cargorail.eu