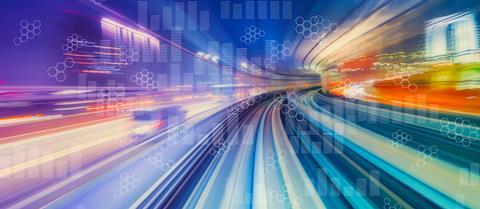 In an interactive live debate held on June 4, we showcased the innovations that UK Power Network Services will deliver to support the operation of the High Speed 1 link between London and the Channel Tunnel, to deliver a future proof, smarter and more insightful operation.
Optimising the management and operation of railway infrastructure must be a priority as demand for sustainable transport starts to recover in the years ahead. Even relatively modern infrastructure can benefit from ensuring that the most up to date diagnostic and monitoring tools are being deployed to maximise the efficient management of physical assets.
This message was at the heart of an interactive live debate hosted by ABB Power Grids and the Railway Gazette Group on June 4. Entitled 'Intelligent Infrastructure: Delivering Asset Efficiencies for the UK's High Speed Network', the webcast focused on investment in the power supply management tools used on High Speed 1, the railway linking London St Pancras International with the Channel Tunnel.
HS1 asset renewal
Opening the discussion, Richard Thorp, Engineering Director of infrastructure concessionaire HS1 Ltd, who set the scene by outlining his organisation's role in stewarding the route infrastructure under a 30 year agreement with the UK government. Under this agreement, there is an assumption of growth in usage of the railway, which today carries domestic commuter trains between London and Kent plus Eurostar international trains serving primarily Paris, Brussels and Amsterdam. However, Thorp recognised that 'strong asset management' would be key to delivering future growth, suggesting that HS1 would benefit from wider support to ensure 'high speed rail can play its full part in a green recovery' after the current pandemic.
He explained that Eurostar operates as a purely commercial entity under open access rules and as such had not yet been able to seek government assistance, in contrast to the financial support being made available to some airlines.
Thorp noted that the key to HS1's success since it fully opened in 2007 was its reliance on proven technology. 'We are essentially a French high speed line dropped into Kent', he added. Yet after 13 years of operation, HS1 Ltd is starting to look at how to renew its core assets, which cannot be considered 'new' anymore. A core objective of this process will be to improve operational efficiency by driving costs down and reliability up. To achieve this, Thorp explained that effective data capture and analytics would be essential.
Data opportunity
According to Thorp, HS1 Ltd's renewals programme presents a major opportunity to change the philosophy behind asset management, breaking away from the 'fit and forget' model commonly applied to long term infrastructure such as railways.
The traction and non-traction power supply to HS1 is managed by contractor UK Power Networks Services, for whom effective life-cycle asset management is also a natural priority. 'We are responsible for many thousands of km of cabling, and hundreds of switches and relays', explained Steve Muscat, the company's Head of Engineering.
In 2018, UKPNS launched an investment programme to replace the SCADA control systems used on the HS1 power grid, and it is working with ABB to deploy MicroSCADA X, its latest generation of asset control tools.
The partners are also working to deploy ABB's Digital Enterprise Asset Performance Management system to provide a wider suite of asset performance monitoring technology, while also making changes to staff workflow — for example, by introducing tablet PCs to ensure work crews have real-time asset data on site. At the same time, the control system enhancements must take account of strategic challenges that have increased in importance over recent years, with Muscat highlighting cybersecurity. 'The days of fitting a control system that is isolated from the rest of the world are long gone', he emphasised.
Muscat explained that three principles governed the roll-out of the asset performance management suite: integrity, performance and condition. Working with ABB, UKPNS has been able to specify a suite that can collect data from the field and interpret it to give a clear and actionable health index of the fixed assets.
In addition, the roll-out of this advanced data suite also gives UKPNS and ABB the chance to work more closely with HS1 Ltd on its longer term energy efficiency and sustainability strategy, now being developed according to Thorp. 'The data we may be able to collect in the future can support these strategic goals', Muscat felt, perhaps by helping to make the case for investing in regenerative braking technology or local micro-generation.
'A true digital enterprise'
According to ABB Power Grids' Business Development Manager Danny Lyonette, the integration of IT and OT systems can create a 'single source of truth' paving the way for creation of a 'true digital enterprise'. ABB's work with UKPNS and HS1 Ltd is one such example, offering an opportunity for better data to inform better decisions.
The asset performance management suite can also help asset owners manage what Lyonette termed 'the trilemma' of risk, cost and performance. 'We can enable a deeper and better understanding of the state of infrastructure assets across the transport sector, enabling managers to find a better balance to find a better balance among these three competing forces', he insisted, while also helping the development of high speed rail services which deliver more comprehensive and sustainable choices for UK passengers.