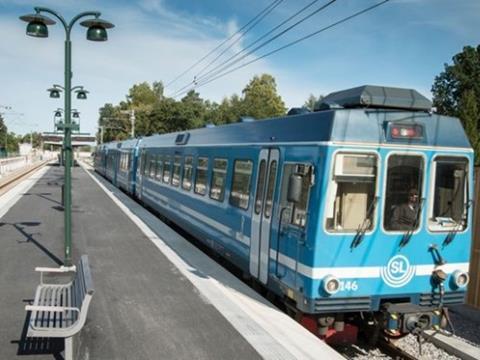 SWEDEN: Stockholm County Council's Traffic Committee announced on August 23 that it had selected Stadler to supply 22 three-car electric multiple-units for use on the 891 mm gauge Roslagsbanan network to the northeast of Stockholm. The SKr2bn contract includes options for a further 45 sets.
Stadler beat bids from Bombardier, Vossloh, CAF and Pesa. Deliveries are due to begin in 2020, for entry into service the following year, when the X15P sets will augment the existing fleet of 101 EMU cars in use on Roslagsbanan.
Each three-car EMU will be 60 m long with capacity for 150 seated and 150 standing passengers. They are planned to run in coupled pairs, and will have a maximum speed of 100 km/h.
Under an expansion strategy adopted in 2010, regional transport authority AB Storstockholms Lokaltrafik is planning to introduce more frequent commuter services on the northern line to Vallentuna, where a new depot is to be built at Molnby, and as far as Åkersberga on the eastern branch to Österskär. This is to be achieved through a larger rolling stock fleet, double-tracking and infrastructure upgrades, which will allow 10 min headways on the busiest parts of the route.