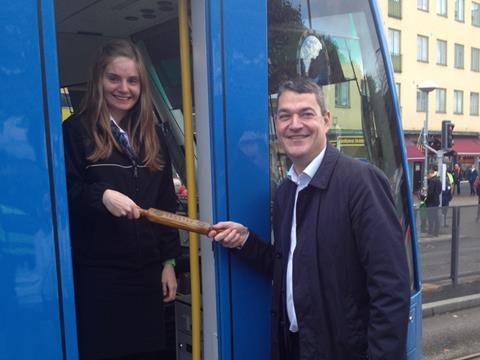 SWEDEN: Regular services on a 7 km extension of Stockholm's Tvärbanan light rail line north from Alvik to Solna Centrum began on October 28, following opening celebrations and free rides the previous day.
The extension includes a 0·8 km tunnel. It adds seven stops to the line, with two providing access to branches of the metro's Blue Line. Signalling was supplied by GE Transportation.
The line is to be extended one stop to Solna station during 2014, and feasibility studies have been undertaken for a northwestern branch to Kista and Helenelund.
Stockholm's light rail and bus services are opened by Arriva on behalf of transport authority Storstockholms Lokaltrafik. Arriva Sverige Managing Director Johan Åhlander hands driver Rebecca Schaffhauser a token granting authority to depart on the Tvärbanan extension.