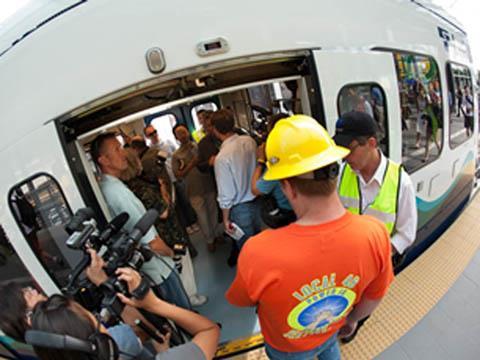 USA: Revenue services on Seattle's $2·3bn Central Link light rail line began on July 20, after more than 92 000 people sampled free rides during the July 18-19 opening weekend. Sound Transit ran free services at 7½ min headways, with two extra 'gap trains' making additional trips on July 18 to handle the large crowds. 'Today was a story-book ending to decades of hard work,' said Seattle Mayor Greg Nickels.
The 22·5 km, 12-station route connects downtown Seattle with Tukwila, utilising the 2·1 km Downtown Transit Tunnel, which is shared with buses that are 'platooned' between trains. More than one bus in each direction can occupy a station or a tunnel section, but not a combination of trains and buses.
A 2·4 km extension from Tukwila to Sea-Tac airport is due to open in December.