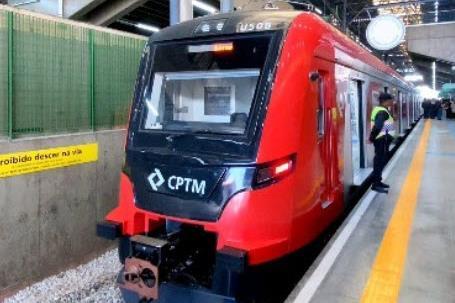 BRAZIL: São Paulo suburban rail operator CPTM has extended its Expresso Aeroporto service from Luz to Palmeiras-Barra Funda with effect from September 1.
This has been facilitated by a R$158m project to modernise the 2 km cross-city connection between Luz and Palmeiras-Barra Funda. This was previously served only by suburban route 710, which was introduced in 2021 as a through service connecting lines 7 and 10. The former Line 7 tracks through the city have now been upgraded to accommodate both the Expresso Aeroporto and Line 11 (Coral) services which are due to be extended from Luz next year.
The capacity expansion project required extensive track and signalling renewals and modernisation of the 3 kV DC overhead electrification and power supply, including the construction of a new substation.
Another R$9m has been invested on enhancement works at Luz, including the lengthening of platform 5 to accommodate Expresso Aeroporto trainsets, the construction of an accessible toilet, and the creation of a retail area.
At the airport, a peoplemover is under construction to link the Aeroporto-Guarulhos station with airport terminals 1, 2, and 3 from next year.