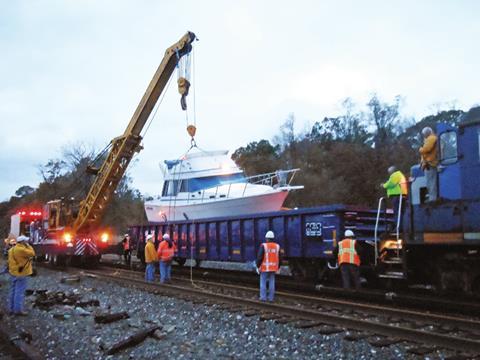 USA: New York MTA has secured the first round of funding from the Federal Transit Administration and the Federal Emergency Management Agency for its Superstorm Sandy recovery works.
The $193·1m includes reimbursement for costs incurred by New York City Transit, Long Island Rail Road and Metro-North Railroad during preparation for the storm, as well as funds to repair infrastructure.
FTA's Public Transportation Emergency Relief Program is to provide $141·6m for reconstruction. Of this, $17·9m will go towards restoring subway Line A in the Rockaways, which is scheduled to reopen in mid-2013.
Long Island Rail Road will receive $20·9m and Metro-North Railroad $14·9m. Around $2·7m is allocated for the Connecticut portion of Metro-North's New Haven Line. The Public Transportation Emergency Relief Program will cover $11·2m of Metro-North's costs. This includes $3m to repair 17 EMUs and seven locomotives damaged by flooding, as well as $720 000 to remove tree debris.
FEMA will expedite $3m for work on seven bridges and two tunnels. About $2·7m will contribute to clearing flood water from NYCT's tunnels, whilst $351611 will cover street furniture and building repairs. MTA Bridges & Tunnels is working with FEMA for reimbursement of its remaining costs and permanent repairs.