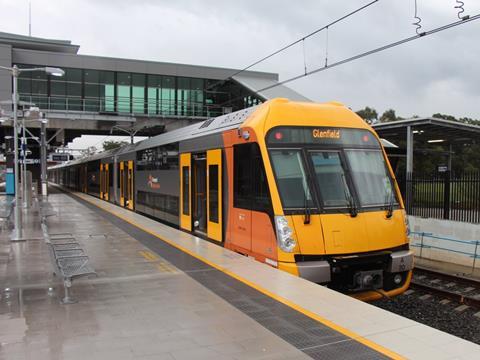 AUSTRALIA: A further build of double-deck EMUs for the Sydney Trains suburban network forms the centrepiece of an A$1·5bn capital investment programme announced by New South Wales Transport Minister Andrew Constance on December 1.
Designed to provide 'an urgent uplift in customer service', the More Trains, More Services programme is intended to address a forecast 21% growth in ridership over the next five years. 'We've seen average train loads rise significantly, which is starting to impact on customers' ability to get on a train in peak periods', Constance explained. The staged programme of enhancements will complement the Sydney Metro Northwest line due to open in 2019.
Downer EDI is to supply 24 'Waratah-style' EMUs, similar to the 78 eight-car double-deck sets delivered in 2011-14 by the Downer-led Reliance Rail consortium under a PPP contract. Construction of the 192 vehicles will be outsourced to CRRC Changchun Railway Vehicles which manufactured bodyshells for the original Waratahs. Downer will be responsible for maintaining the extra trains, with an initial contract running for 25 years.
According to Downer CEO Grant Fenn, there will be 'more than 90% commonality' between the two builds, including all major sub-systems, such as traction equipment, brakes, doors, information systems and air conditioning. The first of the extra trains are expected to enter service in 2018.
Other elements in the programme include track, signalling and power upgrades to increase capacity and reliability, particularly on the busy T1 Western Line. A new timetable is to be introduced on this route from late 2017, offering up to 20 trains/h at peak times. Delivery of the extra EMUs will allow the introduction of four extra express services between Sydney and Paramatta in both the morning and afternoon peaks.
Constance said competitive tendering of the EMU contract had achieved 'more than A$300m in savings' against the initial budget, which would be re-invested in the planned XPT replacement fleet announced in November. He was looking for these trains to be '100% built in NSW' to boost jobs and skills.