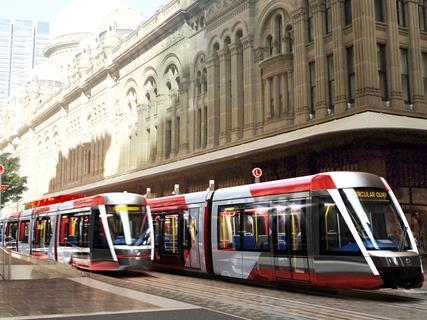 AUSTRALIA: The ALTRAC Light Rail consortium announced on February 25 that it had achieved financial close on the A$2·1bn PPP contract to build, operate and maintain Sydney's CBD & South East Light Rail line.
ALTRAC Light Rail, then called Connecting Sydney, was selected as preferred bidder in October and signed the contract in December. The consortium comprises Transdev Sydney, Alstom Transport Australia, Acciona Infrastructure Australia and Capella Capital, in addition to three equity investors: John Laing, First State Super and Acciona Concesiones.
The 12 km route will connect Circular Quay, Central and Moore Park, where it will split into two branches serving Kingsford and the Prince of Wales Hospital at Randwick.
Alstom is to supply 60 X05 trams, the latest model from its Citadis family. The five-section trams will operate in 67 m long coupled pairs, with capacity for 450 passengers following formal approval by the Department of Planning & Environment. This gives the potential to carry over 50% more than the 9 000 passengers/h in each direction previously announced by the government.
The trams are to be manufactured in Europe and will include permanent magnet motors, double doors for improved passenger flows, large 'balcony style' windows, LED lighting, CCTV, passenger intercoms and real-time passenger information.
A 2 km section of the route on George Street between Town Hall and Circular Quay will be equipped with Alstom's APS ground-level power supply to allow catenary-free operation. Alstom is also supplying signalling, power supply equipment, its HESOP energy recovery system and depot equipment.
The PPP contract is for four years of construction and 15 years of operations and maintenance. Under a separate contract awarded in June, Laing O'Rourke Construction Australia was appointed as managing contractor for up to A$45m of preliminary works.
Construction is due to start after April 2015. Work is due to be completed in 2018 and passenger services are to commence in early 2019, almost a year earlier than originally specified.
ALTRAC Light Rail will also take over operations and maintenance on the existing Inner West Light Rail line from July 1 2015. This route, already operated by Transdev Sydney, connects Inner West with Pyrmont, Darling Harbour and Central station, and is operated with a fleet of 12 CAF trams.