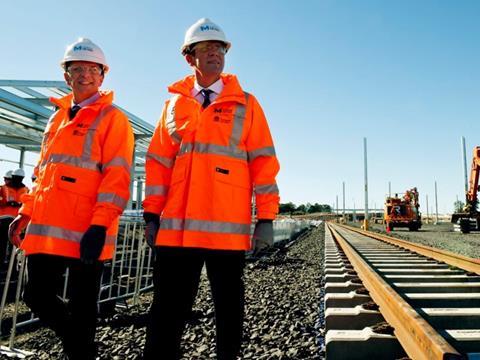 AUSTRALIA: The New South Wales government announced on June 20 that it is to provide A$12bn towards the driverless Sydney metro project over the next four years. The funds are being allocated under the state budget published on June 21.
NSW is to provide A$6·2bn for the City & Southwest phase of the metro and A$5·8bn towards the Northwest phase, meaning that both stages are now fully funded. The Northwest phase, due to open in the first half of 2019, has a total cost of A$8·3bn, with the second phase expected to cost between A$11·5bn and A$12·5bn.
The announcement came as the Northwest tunnels were handed over, having been completed in January. Tracklaying has now started. The government expects tunnelling on the City & Southwest phase to begin by the end of 2018, with revenue services due to start in 2024.
Sydney Metro Northwest comprises a 23 km route from Chatswood to Epping on a converted heavy rail alignment, continuing through the tunnel to emerge onto a 4 km elevated section to terminate at Cudgegong Road in Rouse Hill. Sydney Metro City & Southwest will extend the line from Chatswood to Bankstown using 16·5 km of new alignment including a tunnel running under Sydney Harbour to Sydenham, and 13·4 km of existing tracks which are to be rebuilt to metro standards.