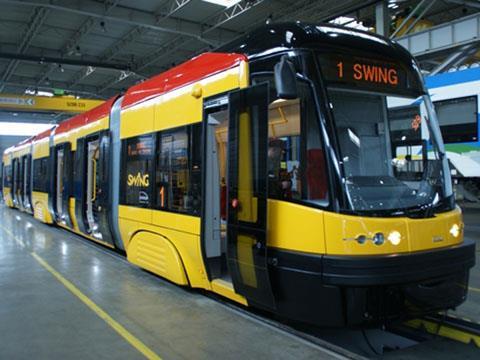 POLAND: Tramwaje Szczecińskie has selected a Mytoll-Strabag consortium to build a fast tram line in Szczecin. The consortium beat three other bidders with its 165·8bn złoty offer. Construction will be co-financed from the EU budget for 2007-13, and so must be finished by the end of 2015.
The 4 km extension will start at Basen Górniczy on the east side of the River Odra and run to ul Truskawkowa with three intermediate stops. The fully segregated line will use a bridge over the River Regalica that was built in 1999-2003 with provision for a double track alignment.
The city has started taking delivery of vehicles to be used on the new route. Of the 22 Pesa Swing low-floor vehicles ordered, six will be delivered by the end of March, with the remaining 16 to come between October 2013 and March 2014.