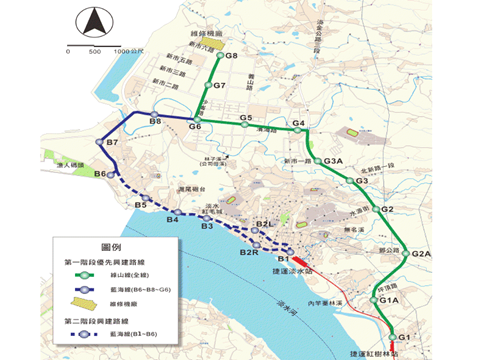 TAIWAN: The Council for Economic Planning and Development approved the first phase of a light rail system in the Tamsui district of Taipei on January 7. Construction is expected to start later this year.
Due for completion in 2018, the 9·6 km first phase comprises the Green Mountain Line, with 11 stations, and part of the Blue Sea Line, with three stations. The Green Mountain Line will link Hongshulin station on the Tamsui Line of the Taipei metro with Danhai New Township. The Blue Mountain Line will run to Fisherman's Wharf. The first phase is expected to cost NT$12·8bn.
The second phase will add six stations and 4·4 km, and is due for completion in 2023.
The total cost of construction of both phases is expected to be NT$15·3bn. The Ministry of Interior's Construction & Planning Agency will contribute NT$7·09bn, the New Taipei City Government NT$6·55bn and the central government will provide NT$1·67.