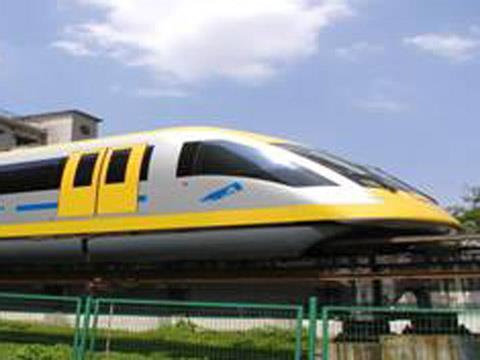 CHINA: CNR Tangshan Railway Vehicle Co has announced the start of tests of a domestically produced magnetic levitation train for medium and low-speed urban applications up to 120 km/h.
The prototype has been developed by China Northern in conjunction with Beijing Enterprises Holdings Maglev Technology Development Co and the National University of Defense Technology. It was rolled out on June 15 and is now operating on the Tangshan plant's 1·5 km national maglev test track, built with the support of the Ministry of Science & Technology.
Each of the cars is equipped with four bogies, eight linear motors and 32 electromagnets for levitation, and the train has electrical and mechanical brakes. The body is formed from a riveted and welded lightweight aluminium alloy honeycomb, with a 'terse, sprightly, comfortable and graceful' interior.