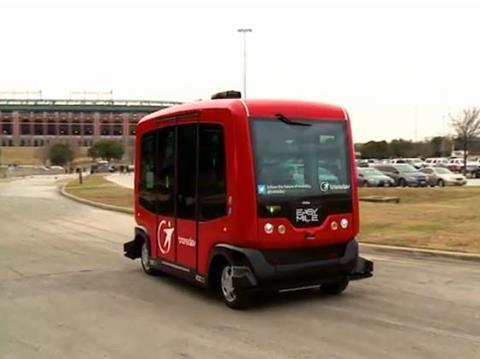 USA: The city council of Arlington, Texas, approved a one-year leasing agreement with EasyMile on March 28 for the use of two EZ10 driverless shuttles. These will be used in a pilot project in the city's Entertainment District, which could start as early as June.
'The city seeks to position itself at the forefront of the connected and autonomous vehicle technology movement', said Community Development & Planning Director John Dugan. 'The pilot project will allow us to see how this driverless vehicle system really works and to look at the overall picture of how these vehicles could enhance the city's transportation options.'
The pilot will offer free rides between the car park and Entertainment District venues, including the baseball stadium, when events are on. The shuttles will travel at up to 30 km/h on designated routes. Each shuttle can carry up to 12 passengers and has an on-board assistant.
The city's Transportation Advisory Committee is examining the use of driverless shuttles as part of a 'large-scale' transport plan covering 10 to 20 years. It is expected to present its recommendations to the city council later this year.