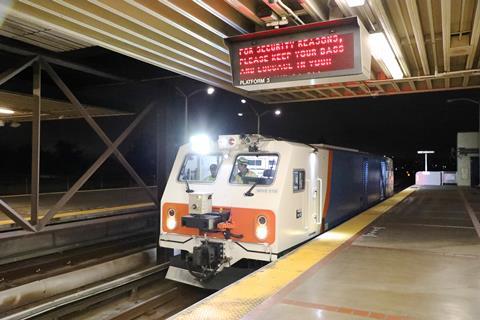 USA: San Francisco Bay area metro operator BART has unveiled a Rail Inspection Vehicle supplied by MerMec to facilitate more efficient track maintenance and minimise any disruption caused when repairs are needed during normal service hours.
The operator said the RIV — which was produced in compliance with Buy America rules — was one of only two such vehicles in the USA, and would 'serve as an important asset to BART for the next 40 to 50 years'.
The vehicle provides advanced track inspection capabilities, with lasers, sensors, cameras, measuring and data management systems which can create a comprehensive profile of the track position, curvature, smoothness, alignment wear and corrugation while travelling at up to 110 km/h.
It can also create 3D surface scans of the area around the track and capture high-definition images that detect abnormalities in components such as concrete sleepers and rail fastenings.
It captures video in both normal and low-light conditions, including in tunnels, as well as infrared thermal imagery.
GPS, axle-counters and radio-frequency identification tags pinpoint the locations of problem areas.