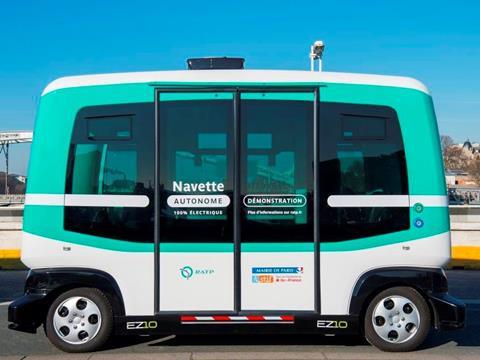 FRANCE: The city of Paris and transport authorities RATP and STIF have launched a experimental driverless electric shuttle service carrying passengers between the capital's Austerlitz and Lyon stations.
The free service is scheduled to operate between 14.00 and 20.00 every day from January 23 until April 7.
The six-seat EasyMile EZ10 electric vehicles have an operator on board, use a dedicated road lane and are recharged at night.
The trial aims to collect passenger and information about performance, reliability, supervision and safety which can be used for detailed assessment of the technology.
RATP is also planning to test driverless shuttles between Château de Vincennes and the floral park in Vincennes forest, and at the CEA nuclear research facility site in Saclay.
'The experiment conducted by RATP is a strong signal', said Mayor of Paris Anne Hidalgo. 'The advent of driverless driving technologies now opens up new outlooks and will make it possible to give far more space to electric modes of transport.'
'Testing, integrating and developing innovative technologies that offer a better service to the region's inhabitants are at the heart of the transport revolution that I launched in Paris and throughout the region a year ago', said STIF Ile-de-France President Valérie Pécresse. 'The data to be collected from this demonstration, and also from at least three other permanent, driverless shuttle services to be launched in the region by STIF this year, will help build the world's first Smart Region.'
RATP is planning to test automatic parking of buses at its Lagny depot.