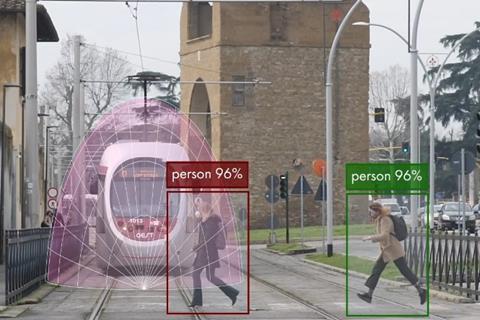 ITALY: Three trams and three tram stops in Firenze have been equipped with sensing, computation and communication capabilities as part of the Software Architecture for Extreme-ScaLe Big-Data AnalyticS in Fog CompuTIng ECosystems project to develop autonomous tram technology.
The EU-funded €5·9m ELASTIC project is being coordinated by the Barcelona Supercomputing Centre, and includes IKERLAN (Spain), Instituto Superior da Engenharia do Porto (Portugal), Information Catalyst (UK), SixSq (Switzerland), Thales TRT (France), Thales Italia (Italy), Gestione ed Esercizio del Sistema Tranviario (Italy) and the city of Firenze (Italy).
The aim is to develop an advanced autonomous localisation system providing accurate real-time positioning information even when GPS coverage is not available, along with the ability to detect hazardous situations in real-time and alert the drivers of both trams and private vehicles.
The three trams have been fitted with cameras, inertial measurement units, radar and lidar, generating data which is merged with information from sensors at the stops and processed by 'complex artificial intelligence methods' to provide real-time information on a tram's position and the presence of obstacles such as people and vehicles at three key intersections between the tramway, streets and pedestrian crossings.
'This lays the basis for our next step: that of an active interaction between the vehicles and the city', said says Eduardo Quiñones, senior researcher at BSC.