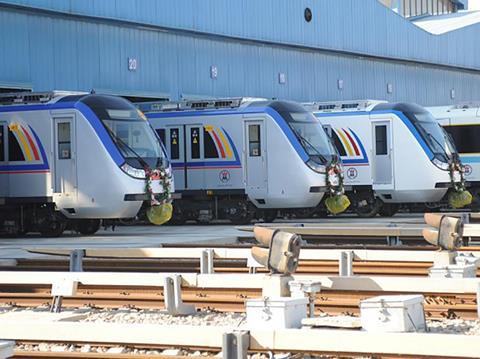 IRAN: Significant steps have been taken towards establishing a domestic urban rail supply chain, Tehran Urban & Suburban Railway Operation Co's Chief Executive Dr Ahmadi Bafandeh told the inaugural conference of the Iranian metro supply industry.
The event held in the capital during December attracted representatives from more than 100 supply, operating and academic organisations. Bafandeh emphasised that the aim was to enhance the domestic supply sector's specialist knowledge, but localisation 'does not mean we want to disconnect from the world and strictly meet our demands though domestic production only'.
TUSROC said Iran had reached 50% self-sufficiency in the supply of frequently-used parts for DC rolling stock fleets, and 49% for AC fleets.
The conference was accompanied by the third Iranian metro exhibition, where delegates could see Iranian-made platform screen doors and power supply rails, as well as communications equipment developed under a localisation project led by KN Toosi University of Technology. During the event TUSROC signed 50 memoranda of understanding with domestic companies, include agreements for precision cast components and the development technology to aid deaf, visually impaired and wheelchair-using passengers.