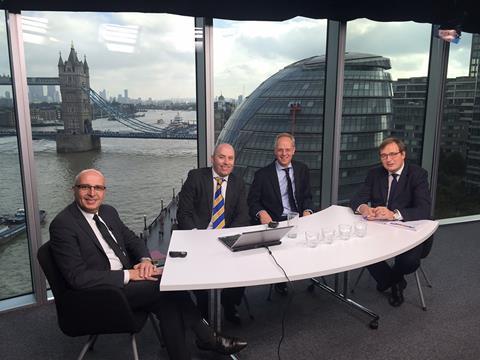 RGTV: Automation, costs and reliability will be touchstones of metro development over the next 15 to 20 years, according to the panellists convened by the Railway Gazette Group for our latest interactive live debate.<bp>Entitled 'The Metro of the Future', the debate addressed a number of topics that are likely to affect how urban rail networks develop. These included:</bp>
How metro operators make the case for investment in metros amid the competitive threats of ride-sharing, taxi apps and lower-cost infrastructure such as bus rapid transit;
How metro networks can best be integrated with other urban travel options such as walking and cycling;
The particular challenges facing operators of legacy metros as they seek to modernise ageing infrastructure;
How technical tools such as LTE-based telecoms networks could help to drive efficiencies and manage whole-life costs.
Joining the panel were Jonathan Fox, Director of London Rail at Transport for London; Gautier Brodeo, Rail Standardisation & Research Specialist at the international public transport association UITP; and Thierry Sens, Marketing Director for the Transportation Segment at Nokia, which sponsored the event.
If you missed the live coverage, the discussion is now available to watch again, free of charge.