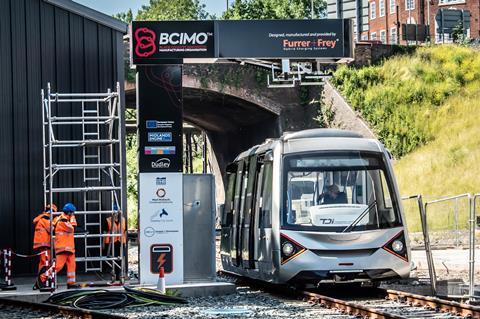 UK: A rapid battery charger which supplier Furrer+Frey says is the first of its kind for a rail application has been commissioned at the Very Light Rail National Innovation Centre in Dudley.
This will enable testing of the automated rapid charging capability of the prototype Very Light Rail vehicle built for trials in Coventry.
The 450 kW opportunity charger was originally designed for use with buses. It has a pantograph that lowers from above, rather than one fitted on the roof of the vehicle, and can top-up vehicle batteries in 3 min at scheduled stops or at the ends of routes.
This allows the use of lighter batteries, and removes the need for vehicles to be manually plugged in at depots for lengthy charging periods.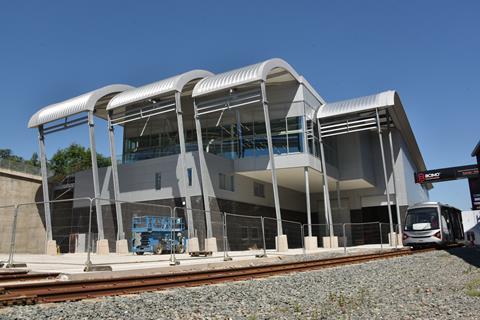 Noel Dolphin, Head of UK Projects at Furrer+Frey, said that 'Coventry Very Light Rail is an exciting project for our industry, pushing the limits of new technologies, materials and battery power to deliver something cost-effective for smaller urban areas'.
Chargers could be used for both buses and VLR vehicles, which Councillor Jim O'Boyle, cabinet member for Jobs, Regeneration & Climate Change at Coventry City Council, said 'demonstrates the tight integration we expect to have between Coventry Very Light Rail and our all-electric bus fleet'.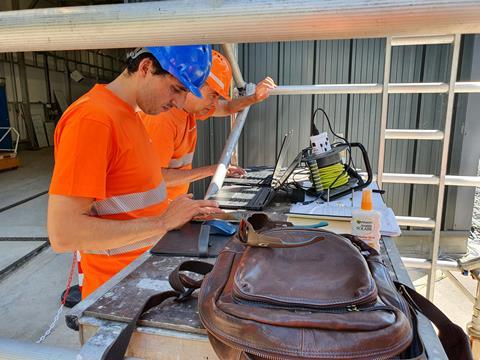 Nick Mallinson, CEO at the Black Country Innovative Manufacturing Organisation which oversees VLRNIC, said 'a key element to delivering lower cost rail solutions, with accelerated delivery times and reduced risk, is to transfer proven technical solutions from other industry sectors'.
He added that his organisation would 'continue to seek technical solutions in other sectors and transfer them into the emerging very light rail sector'.