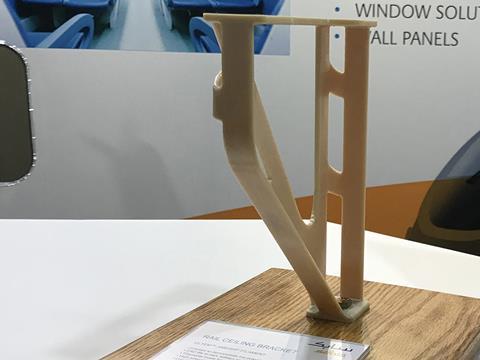 USA: Plastics specialist SABIC used the APTA trade show in Atlanta to launch an interior bracket produced using additive manufacturing techniques, which it believes has the potential to accelerate component production significantly.
Such components are typically made from sheet metal, and are used in saloons to mount ceiling components.
The bracket was produced with a Stratasys Fortus printer with Sabic's Ultem AM9085F filament resin. The filament is offers the same composition as the company's injection moulding grades, and its polyetherimide material is desirable for applications that require high heat resistance, high strength and low flame, smoke and toxicity.
'The bracket is one small example of the way SABIC is eager to partner with the rail industry to help customers make the leap from prototyping to full-scale additive manufacturing production', says Lori Louthan, Director for Mass Transportation.