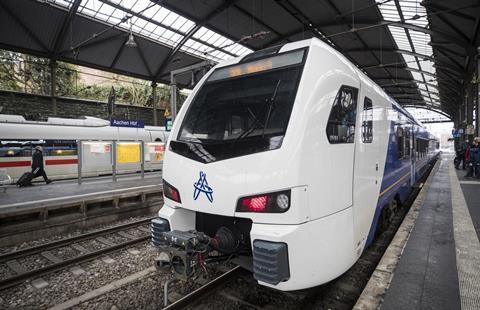 NETHERLANDS: Arriva Nederland has awarded Stadler a contract to retrofit 36 Flirt multiple-units used on regional services in Limburg with Guardia ETCS onboard equipment.
The contract includes obtaining approval for the use of Guardia in Germany and Belgium, because eight of the EMUs are used on cross-border service RE18 from Maastricht to Aachen and are expected to run to Liège in the future.
Announcing the deal on June 29, Stadler said Arriva was the first Dutch regional passenger operator to award a contract for the installation of ETCS onboard equipment. It was also the first contract Stadler had won for retrofitting the Guardia ETCS equipment that has been developed through its AngelStar joint venture with MerMec.
Installation is to be undertaken at Stadler's service centre in the Netherlands in 2020-24, with the first retrofitted trains scheduled to be in operation on the cross-border route in 2022.