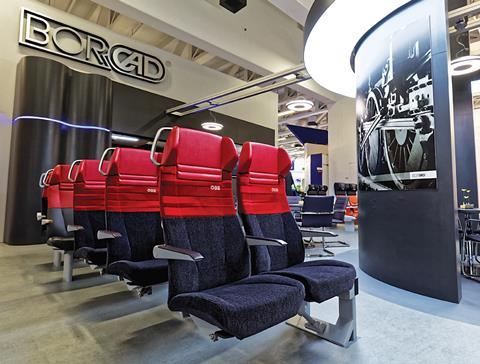 CZECH REPUBLIC: Unveiled earlier this year, Borcad's Genio seat is intended for both regional and inter-city applications. Derived from the manufacturer's previous Regio+ model, Genio is being fitted to the Siemens Desiro Cityjet EMUs for ÖBB and the Škoda-built NIM Express trainsets for DB Regio, which use both the first and second class versions.
Offering a width between armrests of 450 mm in second class and 500 mm in first, Genio has a new design of seat cover and more ergonomic upholstery for the seat and back cushions, which provides for faster assembly, as well as simplifying maintenance and the replacement of damaged parts.
A modified armrest support provides more legroom for passengers within a reduced seat pitch of 800 or 850 mm. Despite this relatively tight pitch, the adjustable seat can be reclined by up to 50 mm, even in second class; Borcad believes the provision of reclining seats in trains 'intended primarily for regional and suburban transport is a milestone in the culture of everyday travelling by train'.
The generous folding seat-back tables are designed to allow passengers to use their laptops and smartphones while also accommodating refreshments and drinks; power supply and USB sockets can also be provided.