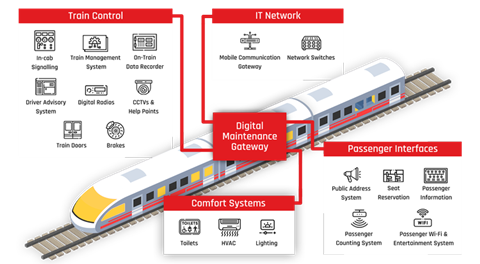 UK: Rail cybersecurity company RazorSecure has launched its Digital Maintenance Gateway, designed to improve security and efficiency when maintaining and updating rolling stock software.
Asset owners can automate repeated tasks and roll out over-the-air updates across multiple trains at once, reducing the need for engineers to manually access devices and therefore reducing the risk to onboard systems.
Operators can reduce the risk of cyber-attacks, identify and prevent human error, and develop an effective audit trail.
'Rail maintenance is no longer just about trains and tracks, but increasingly focused on sustaining the complex combination of digital systems that keep networks moving', said RazorSecure CEO Alex Cowan when DMG was launched on March 16.
'Railways are an integral part of a nation's critical infrastructure and are therefore prime targets for cyber-attacks. We have spent years analysing and researching the industry to understand where gaps in cyber-defences exist. Our state-of-the-art Digital Maintenance Gateway has the capabilities to protect passengers, operators, and help ensure the effective performance of rail networks around the world.'