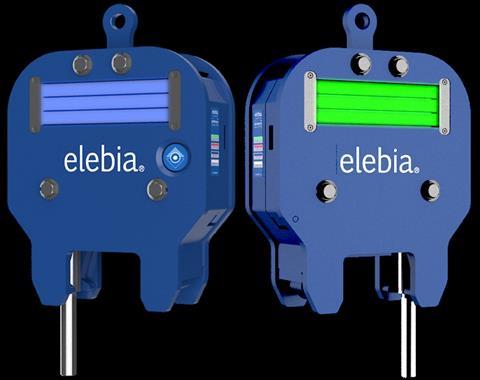 SPAIN: Elebia has developed eTrack, a 2 000 kg capacity remote-controlled clamp to enhance safety when handling rails.
'We were approached by a European company that was searching for a solution to the safety and security issues associated with alternative rail handling methods', explained Elebia founder & CEO Oscar Fillol. 'Currently, it is common for personnel to walk on and in between rail stacks that can be 1 m high to manually engage lifting clamps, which is inherently dangerous and becomes more hazardous still in inclement weather.'
Suspended beneath a gantry crane hook, the eTrack positions itself directly on the rail. The spring-loaded finger then retracts and allows the clamp to make contact and lock.
'There are other remote products on the market but not with the remote engage and release like ours', said Fillol. 'With eTrack, the whole operation of approaching the rails, orienting the clamps and their engagement can be handled remotely, as well as its release.'
An LED indicator shows the clamp's status, with green for unlocked/release load, red for do not lift, blue when the clamp is locked for lifting, and white for a low battery. A 3 h charge allows for more than 5 000 cycles or over two months in standby mode.
'While initial tests were made on 56E1, 60E2 rail profiles and 75 conductor rails, which are standard in most markets, the clamp is easily adaptable and scalable to other profiles', said Fillol.