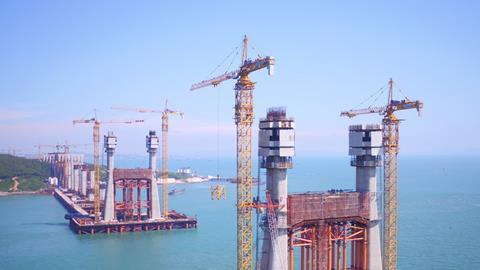 CHINA: The 16·3 km Pingtan Bridge carrying a railway and road across the Haitan Strait is expected to open during 2020, significantly reducing journey times between Fuzhou and Pingtan Island off the east coast of Fujian province.
The fixed link which includes three cable-stayed bridges is being built by China Railway Major Bridge Engineering Group Co, which recently completed lifting operations for the project using more than 35 tower cranes produced by Zoomlion Heavy Industry Science & Technology Co.
The crane supplier said this was one of the most difficult projects of its kind in the world, with the area experiencing strong winds, storm surges, undercurrents and large waves.
'We re-designed the configuration of the D1100-63 crane to ensure wind resistance', said Zheng Changming, Product Director for Large Flat-arm Tower Cranes. 'The upgraded D1100-63 tower crane can be jacked up when exposed to gale force seven winds and can be safely operated up to gale-force eight which is 20·7 m/sec. In extreme cases, it can withstand wind speeds of up to 46 m/sec, which is the equivalent of a category 14 typhoon.'