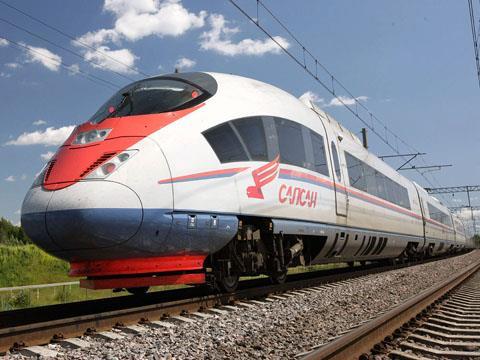 RUSSIA: Rail manufacturer EVRAZ ZSMK announced on June 2 that it had dispatched its first batch of 100 m long head-hardened rails for Russian Railways.
This follows the completion of an 18bn rouble modernisation of its rail and beam mill which began in 2009. The upgrade has increased the plant's output capacity to 950 000 tonnes of rail per year, including 450 000 tonnes of long rails. The company received its certification to supply head-hardened rail in November 2013.
The first batch of 100 m long head-hardened R65 DT-350 rails has been supplied to RZD for use on the October Railway main line between Moscow and St Petersburg. RZD specifies long rails for speeds above 160 km/h, but had to use imported rails when upgrading this route for 250 km/h Sapsan services. EVRAZ says that it is the only manufacturer in Russia and the CIS, and only the third in the world, which can supply long lengths of head-hardened rail.
'This is another high technology product added to our portfolio that complies with advanced quality standards. Not only will it help us reinforce our home market position, but it will enable us to find new export opportunities', said Ilya Shirokobrod, EVRAZ Vice-President and Head of the Railway Products Division.
He added that EVRAZ expects to achieve certification by the end of this year for its DT350CC rails, which have been developed for use on high speed lines with speeds up to 350 or 400 km/h. 'To this end, the rails have successfully passed the laboratory tests, and a pilot delivery of these rails has already been made' to the All-Russian Railway Research Institute's test centre at Shcherbinka for in-track trials.