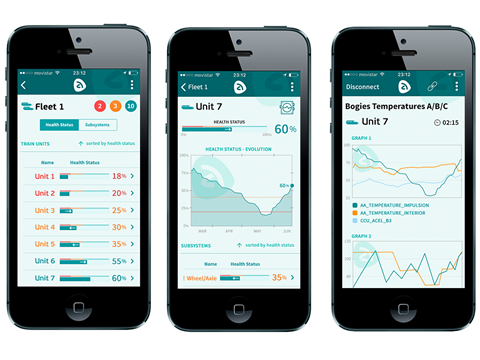 SPAIN: Maintenance systems specialist NEM Solutions has developed an app-based fleet management system which enables rail operators to check the condition of rolling stock from a smart phone or hand-held device. This allows users to monitor their vehicles from any location.
The AURA Rail App works with trains that are fitted with the NEM Onboard Eye technology. NOE uses a programmable controller connected to the multi-vehicle bus, which enables the company's AURA Diagnostic platform to monitor the performance of key subsystems such as air-conditioning, brakes and doors.
The fully-customisable App interrogates the diagnostic system in real time, to collect whatever information the user selects. Algorithms developed in-house analyse the data to provide a consolidated overview of fleet condition, along with the ability to drill down into individual asset types. By trending the data, the system can flag up impending failures which may require urgent attention. App users will also be able to record and share the data.