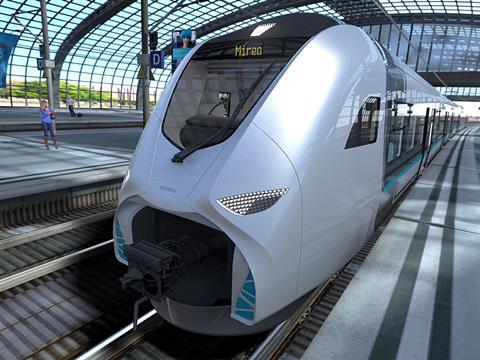 GERMANY: The Federal Ministry for Transport & Digital Infrastructure is to provide Siemens and RWTH Aachen University with €12m to support the development of more efficient fuel cells which would offer a longer life cycle and higher power density.
In November 2017 Siemens and Canadian fuel cell manufacturer Ballard Power Systems announced an agreement to co-operate to develop a modular and scalable 200 kW fuel cell traction system which would be integrated into Siemens' Mireo multiple-unit family for commercial service by 2021. Integration into other vehicle types would follow.
The development funding has been awarded as part of Germany's National Hydrogen & Fuel Cell Technology Innovation Programme co-ordinated by national hydrogen technology organisation NOW GmbH.
'Our co-operation with Ballard marks a decisive step being taken to replace diesel-powered rail vehicles with emission-free vehicles in order to provide sustainable and climate-friendly mobility over the long term', said Sabrina Soussan, CEO of the Siemens Mobility Division on February 26.
'We are seeing a rapid rise in demand for CO2-free fuel cell technology', said Randy MacEwen, President & CEO of Ballard Power Systems. 'This applies to all sectors of passenger and freight transport, whether it is trains, trams, buses or trucks.'