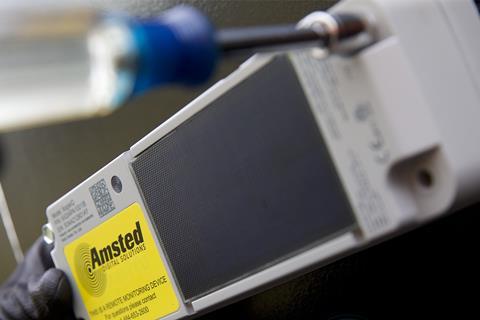 EUROPE: Wagon fleet management and telematics company Amsted Digital Solutions has announced a multi-year contract to supply IQ Series onboard gateways to Greenbrier Europe.
The gateways are designed to provided operational insights without the need for additional sensors. This includes GPS location data to manage inbound empties and outbound high-priority loaded wagons; up-to-the-minute updates on actual arrival and departure, including within yards; mileage data for loaded and empty wagons; real-time alerts for last-mile delivery, excessive dwell time, delays in transit, estimated arrival time, and more.
'Our IQ Series gateway delivers advanced functionality that would typically demand two, three, or even four onboard devices when compared to competing systems', said Brad Myers, Executive Vice-President & Chief Operating Officer of Amsted Digital Solutions, on May 3.
Amsted says the devices can be easily installed on the body of virtually any type of wagon, using self-tapping screws, through-bolts or an optional magnetic mount. The solar and rechargeable battery power supply offers a life up to 10 years.
Greenbrier will use data collected by the devices to improve safety, plan and manage shipments and identify bottlenecks, as well as to optimise maintenance planning. The platform will provide load status in motion for loaded and empty mileage tracking without an external sensor, and the devices can be configured over-the-air to incorporate wheel and brake health.