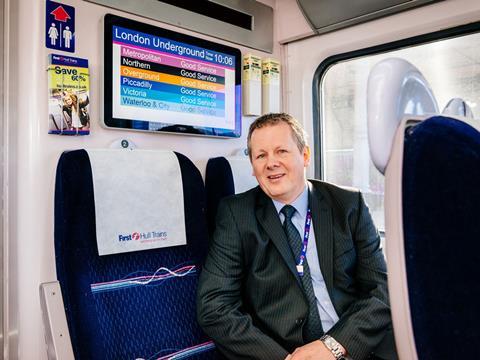 UK: 'Hull Trains passengers are now the most well informed on the UK rail network', claims Mike Dixon, Technical Manager at KeTech which has supplied its Keinform500 onboard information screens for the open access operator's fleet of Alstom diesel multiple-units.
The fleet-wide roll-out follows a successful trial undertaken last year in partnership with leasing company Angel Trains and wi-fi specialist Icomera.
The high-definition screens display live train running information fed from the national Darwin data system. In addition to real-time train running information, passengers are shown departure boards for the stations to be served during the journey, London Underground service status updates and the weather at their destination. They can also be informed of future engineering works as well as promotional offers and services.
'The supply of real-time running information data during journeys is a significant step forward in terms of passenger information and customer service', said Jon Plowright, Head of Engineering at Hull Trains. 'Passengers will now be fully informed about all aspects of their journey both prior to departure, on-board the train and also on arrival at their station for planning onward journeys.'