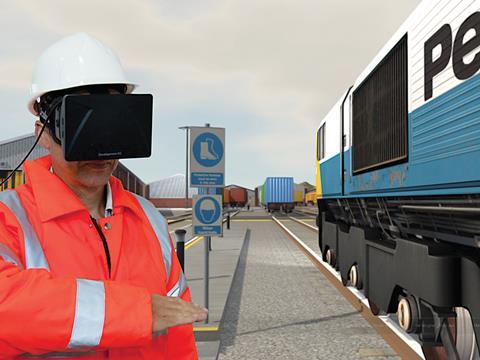 TRAINING: Pennant has produced a prototype Goods Yard Shunter Trainer by combining virtual reality goggles with computer simulation technology originally developed for training military parachutists.
Simulation is an established tool for driver training, says John Churchman, Senior Business Development Manager, but 'we now have the ability to place an individual into almost any environment or situation and safely allow them to exercise and practice their newly acquired knowledge and skills'.
Simulation training can be applied to a wide range of jobs, from maintenance and operations to customer-facing roles, providing an authentic environment where knowledge and skills can be tested on tasks ranging from day-to-day activities to potentially life-threatening situations which would be problematic to replicate in reality. The effects of actions and decisions can be assessed in a safe environment, with the performance recorded and used for debriefing.
The Goods Yard Shunter Trainer has been developed as a spin-off from a computer-based training project undertaken for the UK's Rail Safety & Standards Board. It can replicate different weather and lighting conditions, so shunters can experience working at night or in thick fog.
Pennant is also developing a 'virtual cab' for a US rolling stock supplier, based on systems used in the aviation sector. This will enable maintenance staff to be trained on a simulated vehicle, reducing the need for real vehicles to be taken out of service.
Visitors to Pennant's stand at InnoTrans 2014 will have the chance to experience a virtual world for themselves.