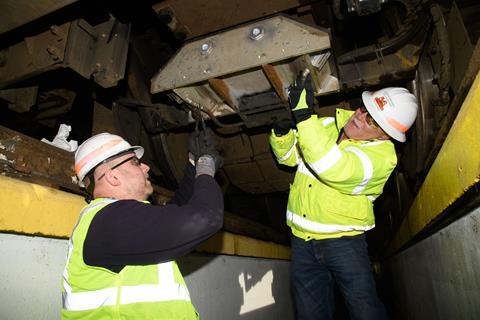 USA: Norfolk Southern's track inspection group has developed a geometry measurement system which can be mounted on a locomotive where it will operate autonomously.
This avoids the need to use a converted freight or passenger vehicle, which would require an external power supply and take up space that could be used for revenue freight.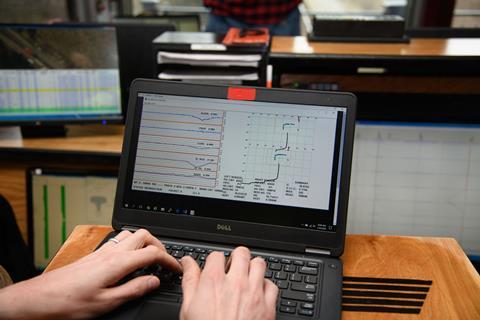 'With our locomotive-based system, we use an existing asset to increase the frequency of our track inspections, without adding another piece of equipment that has to be run across the railroad', explained Ed Boyle, Vice-President Engineering. 'This innovative approach enhances our safety practices by permitting us to have precise and quality track inspections done under load at track speed.'
The inspection unit incorporates commercially available components from the defence sector, including lasers, gyroscopes, accelerometers and GPS. It is mounted in a ruggedised box between the snow plough and the first set of wheels, and linked to a computer housed in the electrical locker in the cab.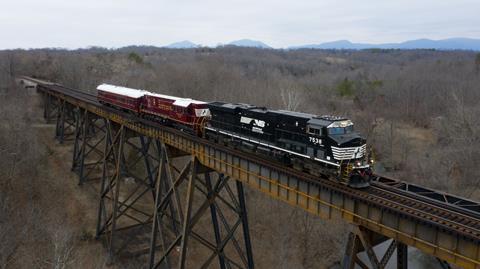 It can detect defects or anomalies in track geometry, including gauge, elevation and curvature. Data is transmitted wirelessly to office locations where track engineers can confirm potential defects and notify maintenance personnel.
'Any time this locomotive is moving and pulling freight, it is testing track at the same time', said Track Inspection & Development Manager Mike Allran, who helped lead the initiative. 'This gives us more robust data for use in predictive modelling to determine track maintenance intervals, which enables us to maximise efficiencies that will generate significant cost savings.'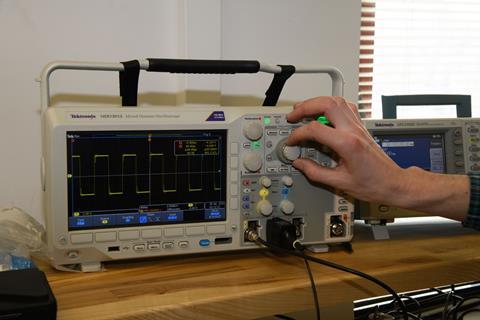 The system is being piloted on a route between Norfolk, Virginia, and Portsmouth, Ohio, which offers a range of track and operating conditions, including straight and curved track, hilly terrain and heavy loads.
NS's future plans include equipping additional locomotives, and potentially upgrading the tool's capabilities with an optical system to evaluate turnouts, rail fastening and welds.