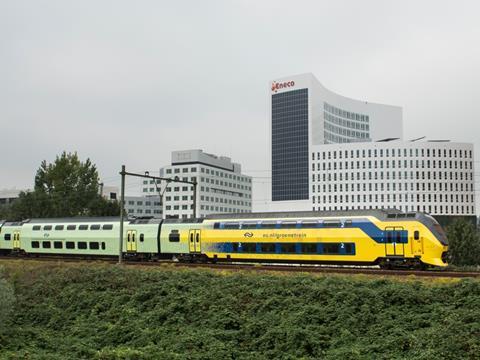 NETHERLANDS: National passenger operator NS is now operating all of its electric trains using wind-generated power, following a three-year transition in association with natural gas, electricity and heat supplier Eneco. According to a personal video message from CEO Roger van Boxtel, NS is the first railway in the world to achieve a 100% target.
Now recording around 1·2 million passenger-journeys per day, NS has an annual energy requirement for 1·2 billion kWh. The company is aiming to reduce consumption by 2% per annum through an energy efficiency programme, and reports that it has already managed to cut total consumption by 30% since 2005.
Looking for a 'dramatic' reduction in greenhouse gas emissions, NS signed the Groene Trein partnership agreement with Eneco in 2015 which envisaged a transition to renewable energy supplies by 2018. In fact, the operator has been able to complete the transition a year ahead of schedule, having reached 76% in 2016.
With the total national demand for green energy in the Netherlands reported to be around 12·5 billion kWh against wind power generating capacity of 7·4 billion kWh, Van Boxtel said NS wanted to ensure that it was using 'verifiable new capacity'. Eneco is therefore sourcing energy for the railway contract from newly-built wind farms in the Netherlands, Belgium, and Finland. Early completion of these facilities is understood to be a key factor in enabling NS to reach its 100% target ahead of schedule.