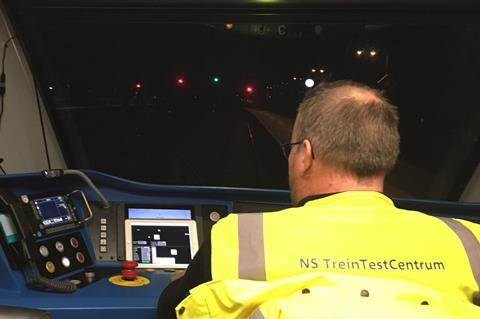 NETHERLANDS: National operator NS carried out its first trials of automatic train operation on the night of December 10-11, when a CAF Sprinter New Generation electric multiple-unit ran under computer control on the Hanze Line.
The experiment took place under Grade of Automation 2, with a member of staff in the cab to monitor operators and intervene if necessary.
NS said the control system did what was intended, independently controlling the traction and braking systems and stopping the train at the correct place on the platform according to the programmed timetable.
'This is a first and important step', said Operations Director Marjan Rintel. 'We will learn from this and gain experience of what automatic operation could mean for NS.'
The tests are being undertaken in partnership with infrastructure manager ProRail and the Ministry of Infrastructure & Water Management. The partners envisage that automated operation could provide an increase in line capacity, with co-ordinated control of every train on a route helping to reduce energy consumption.
Further tests are now planned to assess automated operation in various scenarios, taking into account the movement of other trains and operating under low adhesion conditions.