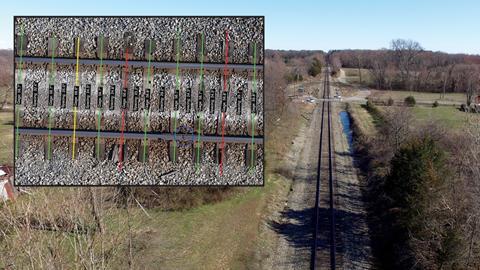 USA: Image processing specialist Ardenna has launched its cloud-based Rail-Inspector system for monitoring the condition of track and infrastructure assets using aerial survey images.
Rail-Inspector is designed to process survey images and generate quantifiable track condition that can support data-driven maintenance decisions. It identifies and measures railway features, classifying anomalies and determining the health of individual assets, whilst flagging up areas of concern to decision makers. Among the track assets that can be identified are sleepers and their condition, fishplates, rail fasteners, turnout switches and crossings. The system will measure rail gauge and gaps, sleeper spacing and angle, and the presence of ballast covering the sleeper surface.
Rail-Inspector has been successfully used to collect and analyse data from a variety of drone platforms, including the DJI Phantom 4, Mavic 2 Enterprise, M600 and Latitude HQ-60, with camera payloads ranging from 12 to 100 MP. It can also process imagery captured from a manned aircraft and a helicopter, while a future configuration will be able to process images captured from rail-mounted vehicles.
'Every business is looking for ways to obtain more insight into the health of their assets without impacting worker safety or operational efficiencies', explained Ardenna's Business Development Director David Patterson. 'Imagery from drone surveys satisfy those requirements. Rail-Inspector takes those images, whether 10 or 10 000, and generates a comprehensive dataset, representing details associated with the track's current health that would be impractical to obtain using other methods. By watching these track details evolve over time, trends can be identified, enabling maintenance to be scheduled and performed proactively before human or rail safety is impacted.'