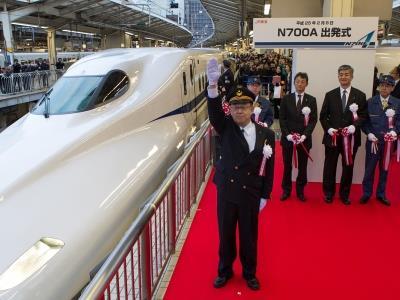 IXYS Corp is supplying hermetic power semiconductor thyristors and fast recovery diode capsules for N700A high speed trainsets. 'The qualification of more of our products into the Japanese rail system builds on our growing business platform in the Japanese market against strong domestic competition, and continues our penetration of the global traction industry', said Bradley Green, President of International Sales & Business Development.
Tractel's Topal PR semi-automatic lifting clamps for rails ranging from 36 kg/m to 60 kg/m offer ergonomic handles for ease of use, with a security screw system designed to avoid the complete closure of the parallelogram and thus prevent fingers getting trapped. A high level of adjustment is possible, and a semi-automatic function means the clamp can be removed without manual intervention once the load is set down.
Transport Canada has approved Connected Controls Corp's Brake-Boss digital air brake tester, which is designed for use with trains of one to more than 200 wagons. A French language user interface has been developed for use in Canada.
Hitachi Cable has launched a range of halogen-free heat resistant LAN cables for rolling stock applications.