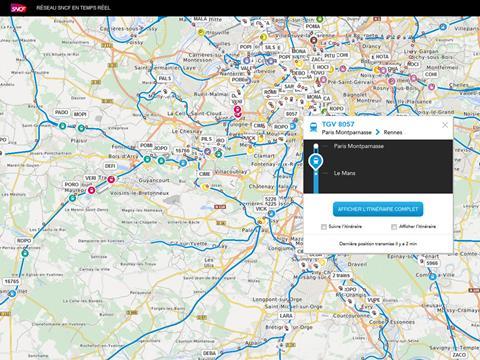 FRANCE: HaCon has implemented a version of its HAFAS Live Maps real-time train location mapping software for French national passenger operator SNCF which for the first time integrates positioning information from both trackside equipment and GPS.
'The combination of the two data sources results in the highest possible precision that is unique to date', explains Julien Ducreux, head of digital and customer relations at SNCF.
SNCF Maps uses more than 1 million operational train messages and about 5 000 timetable datasets to display the location of up to 22 000 trains/day. A custom editing tool enables SNCF to configure and integrate the maps with various web applications or adapt maps to particular needs, for example displaying only certain trains or specific areas. The maps are now available on SNCF's website, and free mobile apps are to be launched.
'After Deutsche Bahn in Germany and ÖBB in Austria, SNCF is the next major European customer to opt for HAFAS Live Maps', said Michael Landwehr, Project Manager at HaCon. 'Our system's quality and innovative strength combined with speed, flexibility and software performance were crucial factors. Together with SNCF, we developed many ideas and extended our product with exciting new features.'