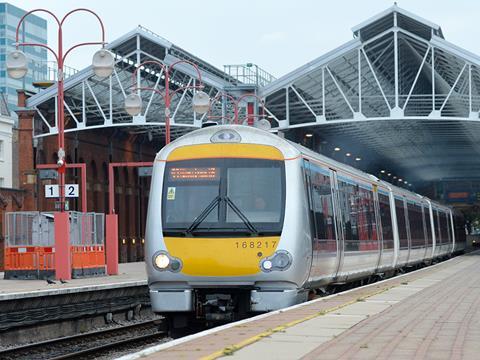 UK: 'Seamless' wi-fi which enables passengers to move from station to on-train networks without needing to reconnect their devices was launched by Chiltern Railways on July 25.
On arrival at one of 28 stations from London Marylebone to Birmingham Moor Street, passengers log on to the free wi-fi connection using a branded interface, which enables the train operator to engage with users. Users can then roam from the station wi-fi supplied by WiFi Spark to on-train wi-fi provided by Icomera. 4G connectivity is provided by EE, which is upgrading trackside infrastructure to deliver a continuous connection along the route.
When the train approaches a station, the onboard wi-fi temporarily hands over to the station wi-fi to give the passenger the best connectivity, saving network costs. Passengers should not experience a loss of connection.
'This really is next generation wi-fi', said Kevin Ives, Digital Transformation Director at Chiltern Railways' parent company Arriva UK Trains. 'Passengers want to be continuously connected to fast and reliable wi-fi as they move through every step of their journey. This collaboration with WiFi Spark, Icomera and EE provides Chiltern Railways customers with a seamless service from the moment they arrive at the station'.