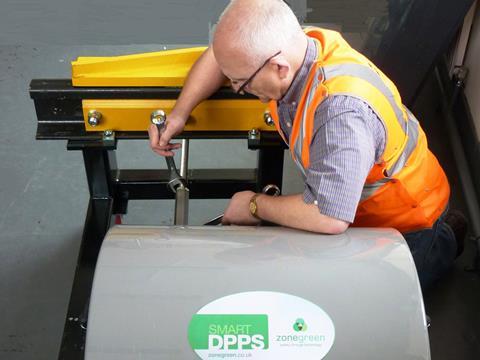 DEPOTS: Zonegreen has launched a second generation of its SMART Depot Personnel Protection System, which combines powered derailers, road-end control panels, train detection equipment, warning signals and personal datakeys to protect staff and infrastructure.
DPSS is now widely used in the UK, and the second generation has been designed with export markets in mind. It offers 'intuitive functionality', with a simple four-button controller and a graphical interface that can be programmed in any language. Remote configuration and assistance has also been added, making export installations simpler and more cost-effective.
Standardised software means the system can not only be configured to the unique layout of each facility, but also allows users to receive new features and updates as they occur. In addition, a tactile membrane and high-quality electronic components have increased durability and reduced power consumption.
'It has taken six years of research and development, along with many thousands of pounds to bring this latest version of DPPS to market', said Zonegreen Technical Director Christian Fletcher. 'It has always been the safest method of controlling train movements in depots, but we have listened to the needs of our clients at home and abroad and it is now simpler to install, easier to use and more efficient to run.'