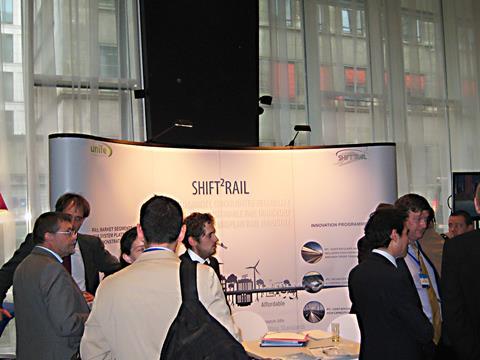 EUROPE: The Shift2Rail Joint Undertaking issued its first open call on December 17, inviting proposals for a range of research projects expected to have a total value of €170m.
Proposals have been invited for nine packages in three of the five Shift2Rail Innovation Programmes (below). An information day is to be held in Brussels on January 20, and the deadline for submissions is March 17.
The Commission is contributing €90m from the Horizon 2020 research budget, which is expected to be matched by €80m from the Shift2Rail members. The EU funding has been split into two categories. A total of €63·l7m has been reserved for projects led by the founding members of Shift2Rail – suppliers Alstom, Ansaldo STS, Bombardier, CAF, Siemens, Thales and infrastructure managers Trafikverket and Network Rail. A further €26·1m will be made available to non-members including suppliers, universities, and research institutes.
As well as the founding members, a further 19 associate members have been selected to participate in the Joint Undertaking following a Commission Decision announced on December 8. They include railway operators and infrastructure managers from 13 countries, as well as infrastructure and rolling stock suppliers, contractors, IT specialists, engineering service providers, research organisations and universities.
According to Interim Executive Director Christos Economou, 'the launch of the first calls is an important milestone for the Joint Undertaking. I am convinced the Shift2Rail partners will deliver results that no single company, country or even the EU as such would achieve alone.'
European Transport Commissioner Violeta Bulc said that by pooling the stakeholders' expertise the joint technology initiative would help to keep the European rail industry 'at the forefront of innovation', and open new world markets to EU companies. Making rail more attractive for passengers and businesses would help to achieve transport decarbonisation objectives, she believed.
Further information on the open call is available from info-call@shift2rail.europa.eu
SHIFT2RAIL OPEN CALLS
IP1: cost-efficient and reliable trains
Development of concepts towards the next generation of traction systems and management of wheel/rail adhesion.
Development of new technological concepts, standard specifications and architectures for train control and monitoring, with specific applications in train-to-ground communications and high safety.
Tools and methodologies supporting the development of next generation traction systems, and brakes.
Technology feasibility studies supporting the development of next generation TCMS, and safe control for brakes.
IP3: High capacity infrastructure
Research into enhanced track and switch and crossing system.
Intelligent maintenance systems and strategies.
Research into new radical ways of changing trains between tracks.
IP4: IT Solutions
Interoperability framework governance, ensuring its market uptake and sustainability
Interoperability framework converters