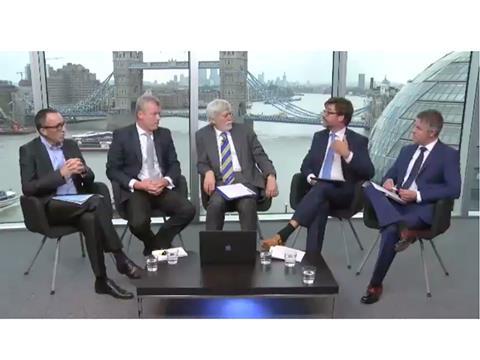 RG:TV: Digital technology is set to play an increasing role in all aspects of the rail sector, according to panellists participating in the Railway Gazette TV interactive debate on The Digital Future. Broadcast from London's Tower Bridge Studio on September 9, the discussion attracted almost 500 registered viewers from 50 countries.
Opening the discussion, RG Editor-in-Chief Chris Jackson suggested that 'the digital revolution is opening up many opportunities for railway operators and infrastructure managers'. He painted a vision of advanced train control and traffic management systems helping to make maximise capacity and reduce energy consumption. Better information systems would support improved maintenance regimes, while passengers and freight customers would benefit from real-time advice and smarter ticketing systems.
Emphasising that the UK's Digital Railway initiative is an 'industry-wide' project, Network Rail's Jerry England said capacity was a key driver, given the huge cost of developing new routes, but it was far from the only reason. Adding that the Digital Railway offered the prospect of better passenger information as well as improved operational performance, Paul Boyle from inter-city operator Virgin Trains East Coast felt that it was a priority to have 'one source of data' to support all the different players in a complex and fragmented market.
Siemens Mobility CEO Dr Jochen Eickholt said the use of big data was helping to improve maintenance regimes. Pointing out that a single fleet of trains could send back up to 50 million status reports a year, he explained that this data could be harnessed to improve reliability as well as cutting maintenance costs.
In terms of traffic management, the panel agreed that greater use of communications-based train control and driver advisory systems would be a major contributor to improved capacity utilisation as well as energy efficiency. England pointed out that Network Rail was introducing automatic train operation to ensure consistency of performance on one or two busy routes, and Eickholt suggested that metro and main line technologies were converging, citing the Nürnberg metro where the network is shared by automated and manually-driven trains. However, Wim Fabries, ERTMS Programme Director at the Netherlands' Ministry of Infrastructure & Environment, said it was 'difficult to see automation in the near future', given that most main line railways were 'an open system'.
A poll of viewers found that 96% of respondents felt that the benefits would justify the investment in digital technology. Asked about the challenges of investment in developing countries, Eickholt said it was much simpler to introduce new technology in a greenfield situation, adding that railways with little or no legacy signalling would benefit from fewer interface problems and a simpler migration.
Reflecting on the global shortage of engineers to develop and maintain advanced systems, Fabries suggested that there was a 'lack of skilled IT people with a business philosophy in the rail sector' who could make the case for investment in digital technologies. England suggested that 'we should move the technology towards that of other industries so we don't need rail specialists, just specialists'.
The panellists agreed that it was essential to standardise the ETCS specifications to permit true interoperability, although Eickholt pointed out that 'it is not always up to suppliers to develop new technologies; we must respond to tender processes'. However, he added that 'we in industry are all in one boat', and agreed that 'we can develop more interoperable, standardised approaches'. In particular, he emphasised the need for multinational authorisation of rolling stock and train control systems, pointing out the huge cost and drain on resources caused by separate approvals in every country.
There was general agreement among the panellists that much of the technology to create a 'digital railway' already exists, and Fabries said 'we know it is technically reliable'. The big challenge will be to bring the various different systems together in order to maximise the benefits. Eickholt pointed out that digital technology was evolving at a much faster rate than traditional railway systems, suggesting that a 'building block' approach would allow different elements to evolve at different rates within an overall architecture. While increasing use of data would require enhanced communications systems, these are already evolving, and the panellists did not envisage any significant problems.
Human factors was another important topic, including the need to ensure that staff were adequately trained to make best use acceptance of new technologies. Boyle felt that with increasing levels of automation it was important for train drivers and control staff to maintain a high level of situational awareness. England added that 'we must not underestimate the scale of the cultural change that digitisation will bring'.
Asked what 'the next big thing' for the railway industry would be, England concluded that it was 'simply everything we have discussed in the past hour'.
The recorded version of the debate is now available to watch. Register here.