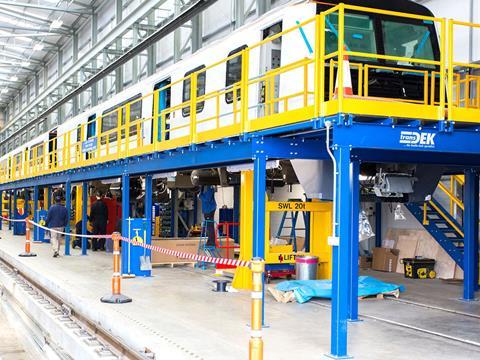 UK: Specialist loading bay and lifting equipment manufacturer Transdek has designed and installed more than 200 m of access platforms and two bespoke goods lifts at Wabtec Rail's rolling stock repair and refurbishment facility in Doncaster.
Wabtec sought to optimise its safe working practices and increase operational efficiency at the site after being awarded a contract to refurbish 30 Class 321 electric multiple-units for leasing company Eversholt Rail. 'The new access platforms provide safe and secure working access both inside and outside of the coaches at the same time, which has really helped speed up the refurbishment works', according to Wabtec Rail Purchasing Manager Craig Duthie.
The working platform in the site's New Shop is designed to minimise the number of supports required, maximising space above and below the platform so that work can be undertaken simultaneously at ground, platform and roof level. Goods lifts at either end of the warehouse allow quick and safe movement of replacement parts.
The access platform for the Light Shop had to fit around the original building, parts of which date back to 1853 with low archways, crane pillars and tight working spaces. Completely surrounding a coach, each platform section is 20 m by 1 350 mm and is weight tested to more than 2 500 kg.
Both access platforms were manufactured in modular kit form with installation completed in 14 days.