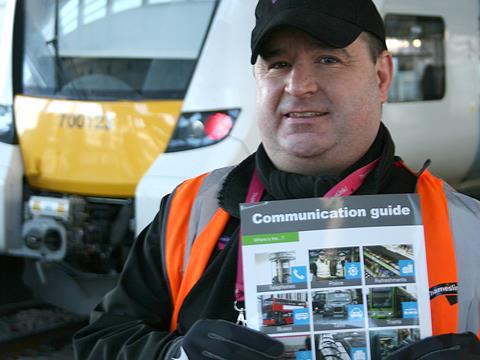 UK: Govia Thameslink Railway is introducing sets of Travel Support Cards to support passengers with hidden disabilities who need help with communication, such as those who are hard of hearing or have language or learning difficulties.
The card has a 'how you can help me' space which is filled in by the passenger, a carer or station staff. The passenger can then show this to staff to explain the support they need. There are also spaces for journey details and emergency contacts.
People who take regular journeys can keep the card to use again, or a new card for each journey can be picked up from any staffed station.
There is also an pictorial Accessibility Communication Guide designed to make it easier for customer service staff and passengers with communications support needs to understand each other. Customers can point to photographs or pictograms to explain what help they need: for example with getting onto their train, catching a bus or taxi outside the station, finding a toilet or a public phone.
'I think these two tools will bring reassurance to those who may not have the confidence to ask for help', said Gill Henley, who represents people with hidden disabilities on a GTR Access Advisory Panels. 'Unlike a badge these are more discreet and therefore will enable someone who needs help to approach a member of staff'.