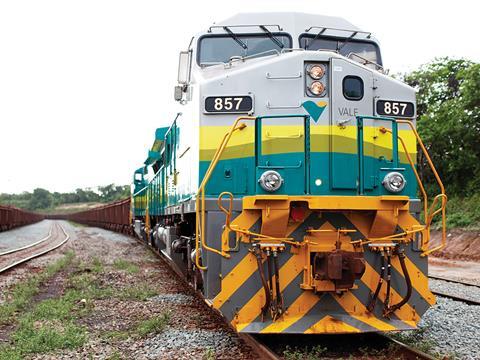 BRAZIL: Vale expects to make significant fuel savings by deploying GE Transportation's Trip Optimizer automated cruise control system across 114 locomotives used on the Estrada de Ferro Carajás heavy haul network.
Pilot tests are also expected to start shortly on the Vitória a Minas network, and on the Nacala Corridor in Mozambique and Malawi.
GE's Trip Optimizer combines real-time data on train length and weight, route topology and track quality and condition to determine the optimal time to accelerate or brake to achieve the greatest fuel efficiency. This enables a train to operate close to the speed limit without exceeding it, and reduces the risk of braking couplings during acceleration and deceleration. According to GE, fuel savings of up to 10% can be achieved.
Vale's preliminary tests on the Carajás Railroad demonstrated fuel savings of up to 2·45%, and the full deployment in 2019 is expected to save 9·4 million litres of B8 diesel and reduce CO2 emissions by 20 600 tonnes/year.
'These are some of the largest trains in the world, comprising 334 wagons and three locomotives', said Marcos Costa, President & CEO of GE Transportation in Latin America. 'To meet Vale's needs, we customised Trip Optimizer in partnership with engineers at our global research centre in Rio de Janeiro, to better navigate the dynamic characteristics of the Brazilian landscape'.
'The locomotives will run on autopilot to achieve the diesel consumption target', said Leonardo Vieira Machado Alexandre, Manager of Railway Engineering at Vale. 'The early tests on the Carajás Railroad were particularly difficult, because of the size and weight of the train. Over time, GE developed the system in partnership with Vale's engineers to achieve more efficient driving.'
Trip Optimizer is now used by almost 3 000 trains/day in the USA, Canada, Australia, China and Mexico. It currently starts operating when a train reaches 19 km/h, but GE is aims to improve this so that it starts with the train.