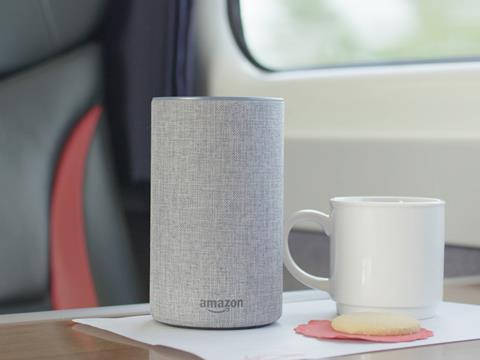 UK: Amazon Echo voice-activated devices with the Alexa virtual assistant and Amazon Pay can now be used to book advance single tickets for Virgin Trains East Coast and West Coast services.
The launch on May 3 follows Virgin Trains' introduction last November of a journey planning 'skill' for Amazon Alexa. The system uses SilverRail's planning and booking engine.
'We're thrilled to work with Virgin Trains to offer customers a completely new way to buy train tickets', said Giulio Montemagno, Director of Amazon Pay EU. 'With Alexa and Amazon Pay, Virgin Trains customers can now search, select and buy train tickets entirely through voice. This is a first-of-a-kind service that will make it easier than ever to find and book the ticket you want, even when you're busy doing something else'.