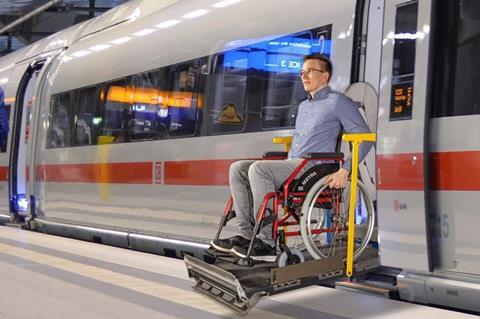 GERMANY: Palfinger has developed a novel design of wheelchair lift for use on DB Fernverkehr's next fleet of ICE high speed trainsets.
The Trainlift TRV 2 SLIM is deployed at a 920 mm wide accessible entry point for use by passengers with reduced mobility. The TSI PRM mandates a minimum lift platform width of 760 mm, to which must be added the width of two lifting jacks, posing a significant design challenge to overcome the space constraints.
The two-arm vertical lift offers a load capacity of 350 kg and a maximum lifting height of 900 mm.
Palfinger built a prototype which was reviewed in a joint workshop with train supplier Siemens, DB, staff representatives and members of wheelchair users' associations.
Practical tests with electric and manual wheelchairs were then undertaken to assess any design refinements for the production version. The lift is locked in place when folded, and secured via a key switch so that only trained personnel can operate it. When the lift platform touches the ground, the roll-off protection at the front automatically lowers so that the wheelchair passenger can enter. A flashing light with acoustic warning signal is activated while the lift is operating.