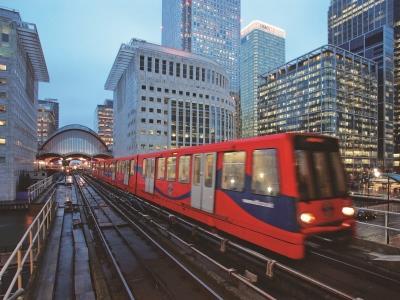 UK: Transport for London has issued the formal invitation to tender to four groups shortlisted to operate and maintain the Docklands Light Railway for 6½ years from September 2014.
The ITT was issued on May 10, with final bids to be returned by September 9, TfL's Acting Director, London Rail Jonathan Fox told a meeting of the Railway Study Association on May 15. This would allow a preferred bidder to be selected early next year for final contract negotiations.
The shortlisted bidders announced on April 17 are incumbent operator Serco, which has run the DLR network since 1997 under two successive franchises; Stagecoach Rail Projects Ltd; a joint venture of Keolis (UK) and Amey Rail; and a joint venture of The Go-Ahead Group and Colas Rail.
The concession will see less revenue risk allocated to the operator, as TfL believes that it is more cost effective for this to be covered by the public sector than to incur an increased risk premium in the contract price. However, Fox said the deal would include specific incentives based on customer satisfaction.
As with the current Serco contract, the deal would cover operation of the entire network plus maintenance of the 149-car train fleet and much of the infrastructure. There is also an option to transfer infrastructure maintenance on the City Airport and Woolwich Arsenal extensions, which is currently being handled by the former PFI partners despite TfL buying out the concessions in 2011.
Maintenance of the Lewisham branch would remain with that line's PFI concessionaires until the agreement expires in 2021. Fox said this deadline had determined the length of the operating contract, as it would enable TfL to wrap the line back into the core agreement for the following concession period.