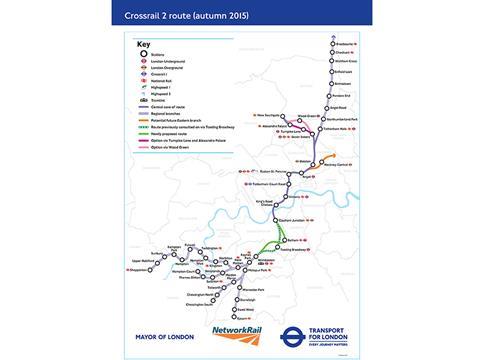 UK: Transport for London has begun public consultation on the route and design of Crossrail 2, a proposed tunnel running under London from Wimbledon in southwest to Tottenham Hale and New Southgate in the north. This would connect existing suburban rail networks at each end.
TfL said two previous consultations had demonstrated 'overwhelming support' for the project from the public and businesses. The latest round of consultation is seeking views on:
Locations of proposed station entrances, tunnel portals and ventilation shafts;
Locations for construction sites;

Proposed Crossrail 2 service patterns and changes to existing rail services.
This round of consultation runs until January 8 2016, and would be followed by others as the project progresses. Subject to government approval and funding for the scheme, TfL envisages that construction could begin in 2020 with the first services running in 2030.
TfL says the Crossrail 2 would provide capacity for 270 000 more people to access central London during the morning peak, and would also free capacity on the existing network for additional long-distance services from Hampshire and Surrey into London Waterloo and from Cambridgeshire and Hertfordshire into Liverpool Street.
Independent analysis has found that over half of the cost of Crossrail 2 could be met from local funding sources, says TfL, including fares revenue, the business rate supplement and mayoral community infrastructure levy currently being used to fund the east–west Crossrail project, and a continuation of the existing council tax precept. There would also be increased tax receipts from new economic activity.