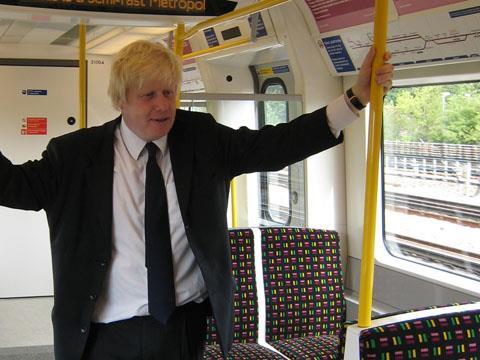 UK: London Underground's first air-conditioned S-Stock train departed Wembley Park shortly after 10.30 on August 2 bound for Watford. Joining passengers on board the Metropolitan Line train were Mayor of London Boris Johnson, Transport Commissioner Peter Hendy and Howard Collins, Chief Operating Officer of LU.
Boris Johnson described the train as the 'coolest ride in town' while Howard Collins hailed the event as 'a great day for LU staff and a proud moment for the project team'.
London Underground placed a £1·5bn order with Bombardier Transportation in 2003 to supply 191 through-gangway trains to replace its ageing Sub-Surface Line fleets. The first 58 trains will replace the 1960s A60 stock currently working the Metropolitan Line. Originally due to enter service in October, the eight-car train completed trial passenger runs on July 31 and got the all-clear to start operating three daily return trips between Wembley Park and Watford from August 2. According to Collins, the number of trips will gradually be increased over the next few weeks.
The next trainset is due to arrive in September, and the entire Metropolitan Line fleet should be deployed by the end of 2011. Following completion of enabling works, the eight-car trains, designated S8, will start running as far as Baker Street by October and eventually to Aldgate.
A further 53 trainsets for the Circle and Hammersmith & City lines will be rolled out from 2012. Delivery of the final 80 trains for the District Line is expected to start in 2013. All trains are due to be operational from 2015. However, the full capacity increases anticipated by LU will not be achieved until the existing SSL signalling has been replaced, in 2018 at the earliest. Two bidders have now been short-listed for the resignalling contract.
The Sub-Surface network comprises 300 route-km and carries one-third of LU's 1 billion-plus annual ridership.
Read more about London Underground's upgrade programme in our interview with LU COO Howard Collins and Director of Line Upgrades David Waboso in the September issue of Metro Report International.